Jean Poole
Imogene Nelson was born on
January 14, 1924
in
Fort Smith, Arkansas
. On
April 6th, 1947
, she and Bob Poole were married in
Yuma, Arizona
by the Justice of the Peace. They met at Rohr and dated for three months and then broke up. When he came home from the Army on furlough they started dating again. In 1958 their son David was born.
Jean enjoyed traveling, camping and reading. She and Bob retired and moved to San Jacinto before she passed away April 16, 1999 in Riverside County, California from cancer. She was 75.
Jean worked at Rohr in the Purchasing Department as an Office Clerk for 30 years. She was a member of the Arlington Church of Christ in Riverside and the Christian Motorcyclists Association in Riverside.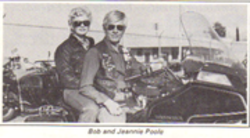 Photograph from Rohr News, Mid November 1982.
Sources: The AeROHRcrafter, February 1956; Press Enterprise obituary April 1999; Bob Poole; Rootsweb.com accessed May 22, 2007
(photo coming soon...)
The Rohr Aircraft Memories website is owned by Sue Poole.
Opinions expressed on these pages are not necessarily those of the site owner.
All content is @2006-2014 Sue Poole unless otherwise credited or a vintage reprint.